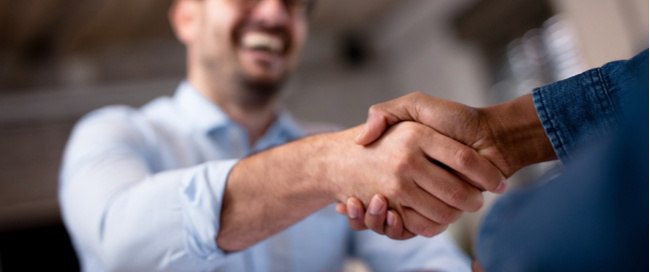 Subscribe
5 Reasons To Hire A Managed Services IT Provider For Your Practice
Every business needs some kind of IT support, whether through in-house staff or outsourcing to IT professionals. Many companies are too small or lean to budget for the salary and benefits of an IT employee or team. What can you do instead of hiring more staff? 64% of businesses use some form of managed services, according to CompTIA's 2016 Buying Guide for Managed Services.
Investing in a Managed Service Provider (MSP) allows you to focus on your organization while your service partner configures your IT systems and keeps them running optimally. Leveraging the expertise and dedicated experience of an MSP has many advantages to businesses of all sizes. In this article, we detail five key reasons to partner with an MSP to streamline your technology operations and provide immense value to your business.
---
Do you know what to look for in a managed IT service provider?
Download our checklist to learn if you're making the best choice for your practice.
---
1. Continuous and Consistent Support
The perceived benefit of having your own internal IT staff is that they are always available to take care of any issues that may present themselves. But what happens when a problem occurs in the middle of the night or weekend?
MSPs are staffed 24/7/365 to solve any potential issues that could come up. Some issues can't wait until Monday morning to be solved. And even if they could theoretically wait, you would risk your team's efficiency and hinder their ability to get work done.
Comprehensive round-the-clock support safeguards your operations and ensures that issues are addressed as quickly and effectively as possible. Empowering experts to monitor your IT systems will allow you to maintain focus on the most important tasks on your team's plate.


2. Scalability With Your Practice's Growth
One of the main reasons an MSP is less expensive than hiring your own internal staff is that they are completely focused on developing and managing the most efficient IT operations. They strategically ensure that you only pay for what your unique practice needs. But those needs will not stay the same.
As you and your practice grow, your IT needs will change. Adding a new member to an internal IT team can take time, and can certainly be very costly. Partnering with a MSP with a wide range of skills and capabilities will ensure that you'll have the support you need as you grow and develop.
The difference between scaling your IT infrastructure and revisiting your strategy with an MSP and internal team is night and day. Your IT partner simply has far greater resources than you do to plan for updates and maintain efficiency with your operations. Adding, reallocating, or reducing resources or capabilities is as simple as placing a phone call to your partner.
3. Cutting-Edge Strategy and Flexibility
As we alluded to in the previous section, MSPs can more easily divert resources and brainpower to what you'll need in the future. They will be working to stay at the forefront of the IT industry, readily prepared to keep their IT systems and data ahead of the game. And when you work with an MSP, your processes and data will integrate with their internal systems.
Importantly, MSPs tend to provide infrastructure built with a proactive mindset. Rather than creating a reactive environment where the key is addressing problems, smart MSPs plan for the near and long future, designing infrastructure that will prevent problems – for them and their customers.
Operating at scale for many customers, an MSP must maintain flexibility to easily dedicate resources to what their clients may need tomorrow. And they've thought long and hard about the best way to build and integrate systems. To support that mindset, MSPs also work with internal and external partners and vendors in order to provide the best possible features or products to their clients.
4. Greater Security and Proactivity
For many organizations, security is easily the most important reason to have dedicated IT partner monitoring and managing their network and systems, and with good reason. According to Symantec, 43% of cyber attacks target small businesses – businesses that may house lots of critical data, but that may not be able to fund intense internal security measures.
As your practice grows, your risk and potential consequences of a security breach will increase in tandem. Hosting other companies' IT systems, MSPs are heavily invested in security. They are spending a great deal of time researching security trends and implementing best practices. By proactively adapting and adjusting their security processes, they ensure that your data (and your patients' data) is protected.


5. Limited Time, Money, and Resources Spent on IT
In an in-house-only structure, greater capability often means spending more time and money. But this kind of investment can be very inefficient and expensive. Consultants have specialized in key business needs because they understand that they can offer better support for these needs and charge far less than it would cost an individual business to accomplish the same tasks.
IT operations is one of the greatest examples of this benefit. Infrastructure is incredibly costly. IT trends change at warp speed and can create a whirlwind of confusion for those who are unfamiliar. It's virtually impossible for an in-house IT team to manage their company's systems and keep pace with changing best practices.
Working with a MSP gives you access to high-quality resources when you need them without making any substantial investments. And without the burden of maintaining your operations and learning the latest in IT management, you'll be able to invest that time in developing your competitive advantages.
Conclusion
From proactivity and scalability to advanced security and investment value, partnering with a MSP is the ideal choice for many businesses. With the need to keep your practice and patient data as secure as possible, a managed provider is likely your best and most strategic option.
But within the IT industry, there are many MSPs to choose from. How do you know which will maximize your value today and prepare for your practice's growth?
Download our managed IT provider checklist to learn if you're making the best choice for your practice: