Data Security | Dental | Medical
What is the most important part of your practice? Is it your building? Is it the equipment? No, your practice is your patients. And since most patient records are stored electronically these days, your practice is your patients' electronic data. Patient data is the critical and comprehensive medical information that allows you to safely treat your patients. So what happens if there is an extended power outage in your area? A fire or flood in your office? Your network server crashes? What if your computer network is compromised from outside your practice?
As a dental or medical professional, you want the ability to stay connected to your patients around the clock. Of course you want to remind a patient of an upcoming appointment or send them the latest practice newsletter. But what about really staying in touch and providing them with valuable information about their health? Whether it be sending over test results, asking patients for sensitive information, or sending treatment records, ensuring that your email system is set up to be safe, secure and HIPAA compliant is essential. In this blog we will outline 9 things you need to be doing to ensure your emails are HIPAA compliant.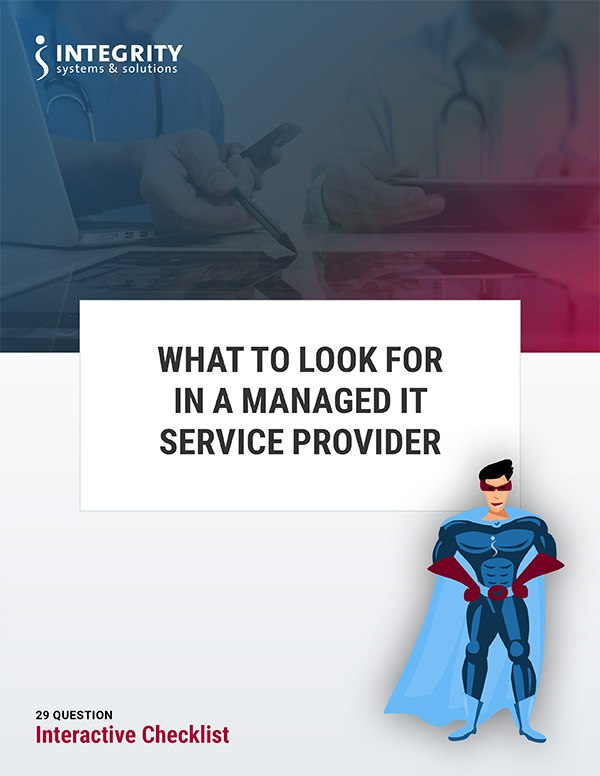 How to Choose a Managed IT Service Provider Checklist
Insight into what questions dental and medical practices should ask managed IT providers as they are searching for one. The checklist also dives into red flags to be on the look-out for.
You have found a managed information technology partner, chosen the best practice management software, and have digitized your practice. Now you have to follow healthcare information technology standards. While it may be difficult, following healthcare information technology standards is very important to ensure the best service for your patients. Become familiar with what those standards are, and why it is important to have processes in place in order to preserve the integrity of your patient data and to avoid penalties.
Nearly every industry relies on the internet to conduct business. For this reason, network security and security breaches will continue to be in the news. Health care is one of these internet-reliant industries. Because of the confidential and valuable information that healthcare providers collect about their patients, health care has become a popular target of cyber attackers. Following HIPAA standards is not enough to keep data safe. Knowing that their practices have valuable data, medical and dental providers must take the proper steps to make sure that their networks and information are secure.
Communication is key when it comes to providing a better experience for your patients. Improvements in medical information technology have made it easier for practices to adopt new methods to securely communicate with and educate their patients. Not only are there better ways to reach out to your patients, but with the advancements in medical information technology your patients' private information is secure and Health Insurance Portability and Accountability Act (HIPAA)-compliant. Electronic health records make it easier for you to help your patients understand what is being recorded, and how they can use their health information. Here are five ways you can use medical information technology in your practice.
Congratulations! You've recently graduated from dental school, and you're probably considering your options. One of your most fulfilling (yet most challenging) options is to open up your own practice. Or maybe you have been working as an associate dentist for an established practice, and now you want to be your own boss. You might be looking at purchasing an existing practice. Whether you build from scratch or buy a practice, opening up your own practice is not easy, and it's not something you learn how to do in dental school. Over the years we've seen dozens of practices open. Some practices succeed and some struggle. As a professional, you want the opportunity to open your own practice and ultimately run it successfully. Here are some tips to make your practice start-up experience a successful one: