For any practice, foundational technology is a key factor for the operation. But how do you determine those needs? First and foremost, notes Jon Northway, co-founder and Senior Technology Consultant at Integrity Systems & Solutions (ISS), defining requirements starts with the type of practice you will have. Are you a general dentist, or do you specialize in a particular area, like endodontics, pediatric dentistry, orthodontics, oral and maxillofacial surgery, etc.? Understanding practice direction informs workflow and technology criteria.
In 2022, we continued to see the adoption of digital dentistry across our clients' practices. The trends we covered last year—smart toothbrushes, 3D printers, augmented reality (AR), intra-oral cameras, and more—appear to be part of a continuing move into dental digital transformation.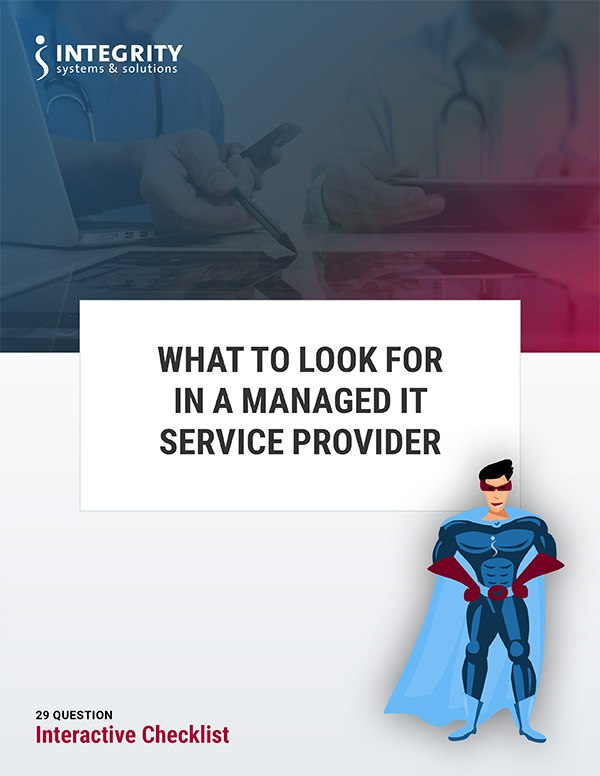 How to Choose a Managed IT Service Provider Checklist
Insight into what questions dental and medical practices should ask managed IT providers as they are searching for one. The checklist also dives into red flags to be on the look-out for.
Small dental practices can be some of the smallest businesses in an area, and are often eclipsed by well-established, larger practices and giant dental corporations. With only one dentist, a dental assistant, a few hygienists and maybe one other staff member on the team, it's easy to think that small dental practices can fly under the radar of hackers.
Dental | HIPAA Guidelines | Healthcare
HIPAA compliance is critical for all types of medical providers, including dental professionals— as a HIPAA violation can be costly for your dental practice.
You have made the decision to go digital in your dental practice, now what? Navigating the field of dental practice management software can often be challenging and overwhelming. There are tons of options, each with different features, functionality, integration options, reporting, levels of support, etc. But deciding on the right software for YOUR PRACTICE doesn't have to be so difficult. Listed below are some guidelines that will help you evaluate dental practice management software. Whether you operate out of a single office or manage multiple locations, considering these 5 factors will help you maximize your success in making the right choice for your dental practice the first time.
What is HIPAA? Whether you are looking to digitize your records or you're fresh out of school, it's important to get familiar with the Health Insurance Portability and Accountability Act of 1996 (HIPAA) as it applies to you and your practice to avoid costly HIPAA missteps.