Data Security | Dental | HIPAA Guidelines | Healthcare | Medical
PCI. To you, it's just one more compliance protocol for your practice to deal with.
As a dental practice owner, you're running a healthcare organization that houses a wealth of private patient data. From names and home addresses to social security numbers and billing information, just think of your hundreds or thousands of patients captured in your database.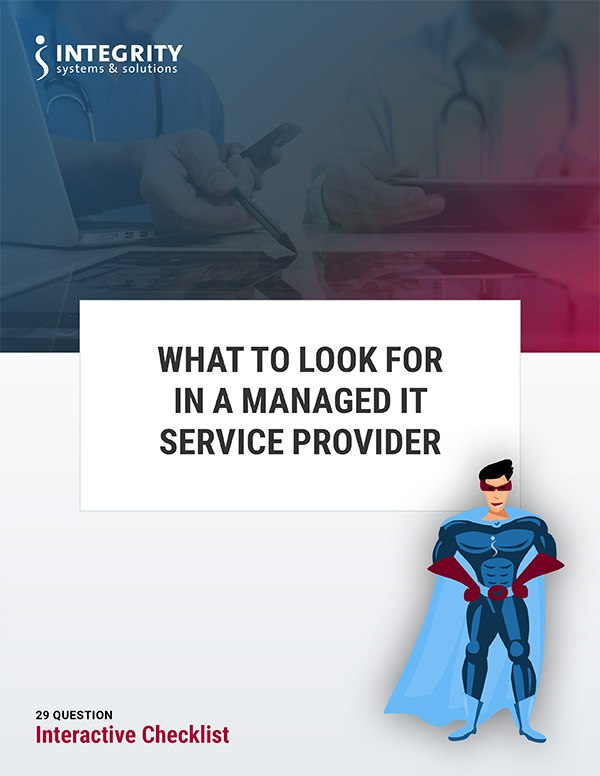 How to Choose a Managed IT Service Provider Checklist
Insight into what questions dental and medical practices should ask managed IT providers as they are searching for one. The checklist also dives into red flags to be on the look-out for.
You've faced the hard reality that your dental practice can't handle all its technology needs on its own. It seems like every time your staff comes to you with problems about a dentistry application or questions about your digital security, you don't have answers for them— and this can't keep happening.
Data Security | Dental | HIPAA Guidelines
In this day and age of increasing compliance requirements and ever-evolving threats of security attacks, it's important to have the right cybersecurity package for your dental practice. After all, your sensitive data, including the personal and financial information of your patients, needs to be protected at all costs.
Data Security | Network Assessment
Certain dental and medical practices don't see the value in a proper network assessment. But network security is pertinent in these fields, as healthcare companies are at a much higher risk for attack, due to the vast wealth of protected health information (PHI) they house.
Data Security | Dental | Medical
As a healthcare provider, you are responsible for providing the best possible care to your patients. In order to do so, you gather important details about them. Therefore, you are also responsible for protecting your patients' sensitive information. This includes, but is not limited to, demographics such as birth dates and social security numbers, financial data, or health information such as medical conditions and test results. Recently, Quest Diagnostics was in the news for a data breach affecting 12 million of their patients. This is just the latest in a series of several major security breaches in recent years. Although the Quest breach affected American Medical Collection Agency, a third party billing service employed by Quest at the time, it is Quest's business reputation on the line. Read on to find out ways your practice could be at risk and how to protect yourself and your patients.