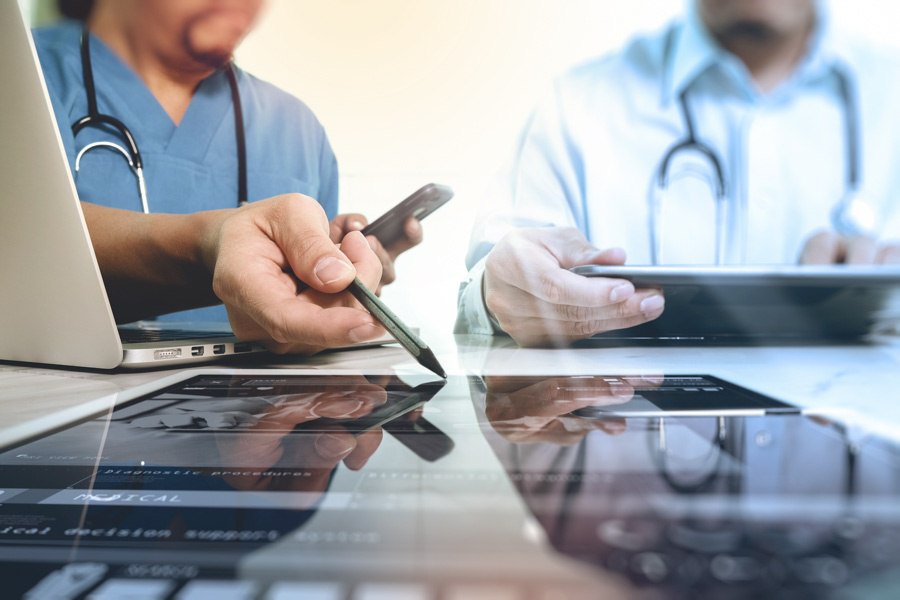 Subscribe
5 Ways to Use Medical Information Technology in Your Practice
Communication is key when it comes to providing a better experience for your patients. Improvements in medical information technology have made it easier for practices to adopt new methods to securely communicate with and educate their patients. Not only are there better ways to reach out to your patients, but with the advancements in medical information technology your patients' private information is secure and Health Insurance Portability and Accountability Act (HIPAA)-compliant. Electronic health records make it easier for you to help your patients understand what is being recorded, and how they can use their health information. Here are five ways you can use medical information technology in your practice.
---
Do you know what to look for in a managed IT service provider?
Download our checklist to learn if you're making the best choice for your practice.
---
1. Develop an Informative Website and/or Blog
Having a well-designed website and/or blog will help establish credibility for your brand and increase visitors to your website; therefore, increasing the number of patients who will come to your practice. Make sure you have your contact information, details about your providers, hours of availability, and medical area of specialty. Also important is having a patient portal. Patients should have the option to send you a message, view their personal health chart, and perhaps book an appointment online. Your website will make it extremely easy for your patients to stay in touch.
You can become a source of medical information for your audience. Create a series of blog articles highlighting different health conditions that may be of interest to your patients. According to a report by NBC News, 80% of internet users have searched for a health-related topic online. When patients search for medical information on the internet, as so many people do, your blogs will come up in their search engines, leading them to your website and practice.
2. Use Social Media
Many types of businesses, including medical, are connecting with clients via social media these days. Small private practices, larger healthcare facilities, and hospitals are all using social media to establish contact with patients, answer patient questions, launch public awareness campaigns, and perform community outreach. Social media demographics are expanding. We are seeing this in every industry and it is no different for your medical practice.
Just like your website, social media is a great place to communicate with your patients about all kinds of information. You can post normal and holiday office hours and appointment availability. You are also able to post a link for scheduling an appointment for existing patients.
A Pew research study found that 62% of U.S adults reported getting news from social media. Since more and more people are getting their news from social media, being able to educate your patients through social media has become a crucial part of patient outreach. It's also a great way to market your services and gain new patients.
3. Use Technology to Consult with Colleagues and to Communicate with Patients
Technology has also enabled doctors to use email, texts, videos, and conference facilities to consult with colleagues from far away. Instead of sending a patient to a specialist who is located far from the patient's home, you are able to consult experts from all over the world in order to help diagnose, treat, and research conditions. The telemedicine trend also benefits patients; they are able to consult with you from far away, and insurance companies are starting to pay for telemedicine claims.
According to the Wall Street Journal, telemedicine has taken off. Because the use of telemedicine is growing rapidly, more and more doctors are meeting with patients by phone, email, and even video chat. Due to faster internet connections, the rapid growth of smartphone adoption, and changing insurance standards, this has become more realistic for doctors to do effectively. Doctors are even using technology to make split-second decisions for their patients regarding urgent matters like heart attacks and strokes. Patients are able to use new devices to send important vital signs to their doctors in order for them to monitor their conditions.
4. Keep Electronic Records
Patient Electronic Health Records, or EHR, are required by many medical insurance plans. Having EHR certainly helps you comply with HIPAA privacy standards by keeping your patient information secure. Medical history, lab test results, diagnoses, medications, treatment plans, immunizations dates, allergies, and radiology images are represent some of the information that would be found in a patient's electronic health record. EHR is stored in a main database that can be referred to later. A patient's health record would contain records of each visit with you, as well as visits with other medical professionals.
EHR is good for patients and doctors. EHR allows for easier access to medical health records for the patient and for the doctor. Electronic health records can be shared with other medical specialists in order to consult on different health conditions for a particular patient. A major benefit of storing patient health information electronically is that providers can see in one glance which medications a patient takes. The patient does not have to remember all of the drugs he or she takes; it is all in the record. Doctors can create a patient portal through which a patient can see their own health information.
Another benefit of EHR is that the health information can be shared easily with many health care organizations. EHRs are updated in real-time. This means that when a patient's primary care doctor or specialist is looking at a patient's EHR, they are able to make decisions based on the most updated information on that patient.
5. Help Patients Understand Their Health Record and How It Is Being Used
As more institutions are adopting electronic health records, patients have easier access to their own information so they too can understand their own health. Patients can take ownership of their health when they can see their own medical record. EHR is crucial to patient education. When patients participate in their own healthcare, outcomes are improved, which lowers healthcare costs overall.
With all the personal data in today's world, it is very important to help inform patients what type of information is being collected and how it is being used. Federal laws like HIPAA, require that health organizations and their key people that handle health information to have policies and security safeguards in place to protect patients' health information. This is true for both paper and electronically stored records, but it is far easier to maintain EHR securely.
Conclusion
Having a better website and using social media may seem like an obvious suggestion, but using it effectively in order to help your patients is key. By being the one that provides your patients with medical news and information you can ensure that they are being educated correctly. Make sure your patients are educated about their records and how they are able to see them.
Use medical information technology to increase your knowledge and resources via different forms of communication. You can consult with colleagues all over the world to improve patient outcomes. Keep secure electronic health records of all your patients and use them to your advantage in order to access the most updated patient health information. Use technology to monitor your patients' health when they are at home in order to provide the best service to them.