Data Security | Dental | Medical
As a healthcare provider, you are responsible for providing the best possible care to your patients. In order to do so, you gather important details about them. Therefore, you are also responsible for protecting your patients' sensitive information. This includes, but is not limited to, demographics such as birth dates and social security numbers, financial data, or health information such as medical conditions and test results. Recently, Quest Diagnostics was in the news for a data breach affecting 12 million of their patients. This is just the latest in a series of several major security breaches in recent years. Although the Quest breach affected American Medical Collection Agency, a third party billing service employed by Quest at the time, it is Quest's business reputation on the line. Read on to find out ways your practice could be at risk and how to protect yourself and your patients.
Technology continues to quickly grow and advance in all industries, but in the dental industry in particular. If you're in the dental industry, it's important for you to keep pace. Utilizing technology advances in the dental field could mean more efficiency for your office, a better patient experience, earlier detection, and could be a selling point for new patients. Here are the top dentistry technology trends you should check out: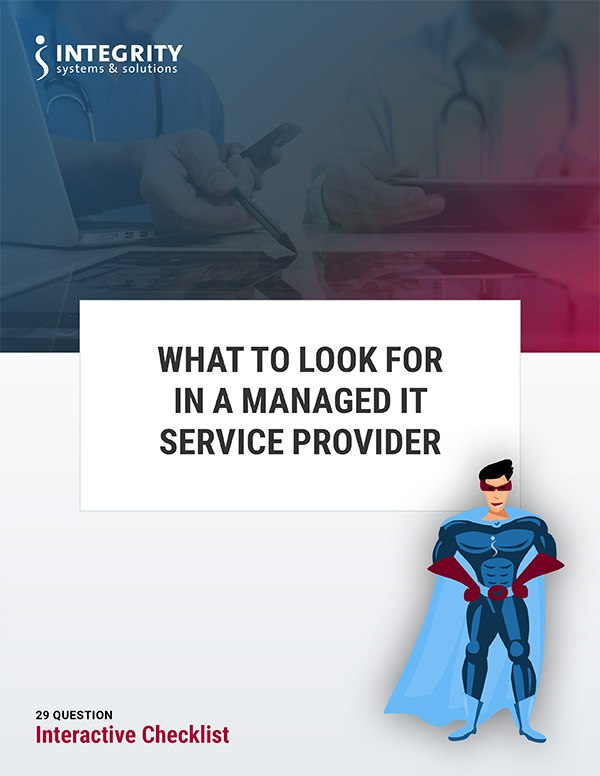 How to Choose a Managed IT Service Provider Checklist
Insight into what questions dental and medical practices should ask managed IT providers as they are searching for one. The checklist also dives into red flags to be on the look-out for.
As an owner of a medical practice, your ultimate goal is to ensure the safety and health of your patients. You know that to accomplish the best patient care it's essential that your operations and systems are set up in a way to ensure everything is running as easily and efficiently as possible. The technology industry is constantly changing, so it's important that you are aware of what's coming and how your practice can prepare for these changes. Technology can help you effect the best possible outcomes for your patients.
Each day, there is increasing demand for instant electronic data. And with the lines ever more blurred between personal and work time, people have come to expect the same level of information accessibility at work as at home. Employees want to access data they need for their jobs as well as the ability to book their next vacation from their desks. However, there is a huge difference in how and how much information employees should be able to retrieve on their home computers versus their employer-owned systems. Technology in the workplace is supposed to increase workplace productivity, but often results in cyberslacking. Here we will focus more on security issues surrounding your practice's technology. We will outline three reasons for limiting what your employees can access. Your IT partner can provide further guidance.
There is a lot to consider when you begin planning to install information technology in your dental practice. Planning should be a collaborative effort involving the doctor(s), an information technology partner, and other vendors as indicated (such as an electrician or your construction contractor). Taking on a large project like this requires a lot of planning. Here are some of the things to consider before you install a dental clinic information system in your practice.
These days every business has to think about how to integrate information technology, or IT, into their operations. But doctors' offices have a few unique considerations they must look at when deciding how to set up their office technology. Medical practices must consider how technology will work in day-to-day running of a business while conforming to incredibly stringent regulations surrounding patient data and privacy.