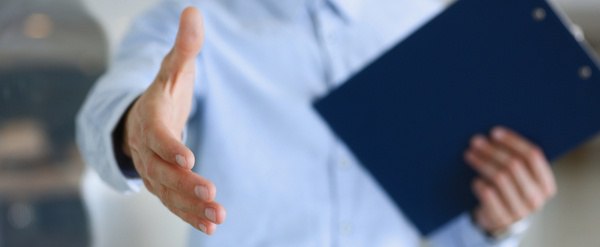 Subscribe
How Dentists & Doctors Can Evaluate IT Outsourcing Companies
As a practice owner, you understand the impact that every choice you make has on your
business. This is especially true when it comes to choosing an information technology partner
for your practice. A hasty decision made without doing all of your research, or perhaps not doing the right research, can seriously set back your practice's success. On the other hand, a well-researched and carefully considered IT partner can increase your practice's success and can help you attract new patients.
---
Do you know what to look for in a managed IT service provider?
Download our checklist to learn if you're making the best choice for your practice.
---
The main benefits of outsourcing can be narrowed down to three things: time, savings, and
access to expertise. We've discussed the importance of and benefits of outsourcing your
information technology (more time to spend on the things you love doing, less time and
resources needed from your in-house staff, etc.), but let's talk about how to begin evaluating the right company for you.
Range of Available Solutions
You never know what life is going to throw at you and your practice, so it's important that the information technology outsourcing company you choose offers many options. Make sure the solutions they offer will allow you to operate in the most efficient and effective manner possible. These can vary depending on your practice's specific business requirements, but may include such solutions as backup & recovery services, business continuity planning, disaster recovery, email & IM archiving, telcom services, cloud services, application hosting, consulting and project management.
It is important that the IT partner you ultimately choose will be able to recommend solutions appropriate to your practice's needs. The size of your practice, specialty, location(s), and how you will use technology in your practice will determine which options should be presented to you and your practice.
Quality and Depth of the Staff
If they are working for a reputable company, there's a good chance that the staff is qualified and able to complete the work given to them; however, it's important to dig deeper. Talk to prospective IT companies about who you will be engaging with on a regular basis. For example, will you have access to an entire team or just one person?
Ask a lot of questions to make sure you have a complete understanding of what you can expect out of the partnership:
What technical certifications do their staff members have?
Are they able to provide assistance 24/7 with the team they currently have?
How quickly are emergencies handled? Is the helpline answered live, or do you leave a message for a call back?
Are they able to help with your infrastructure from the beginning (setting it up) to the end (functioning properly)?
Prospective IT companies should also be asking you plenty of questions to best determine your practice's needs. And you should feel like they are really listening to your answers.
Level of Company's Experience
Asking the right questions to understand whether or not the company is the right fit for you is important. It's not enough that the company is reputable or has great online reviews. Ask detailed questions that focus on the following:
What is their experience in working with practices in your industry? Having an IT partner who works with many medical and dental offices will already have a better understanding of your practice's needs and challenges.
What is their experience in working with practices similar (in size, specialty, etc.) to yours?
How long have those practices been clients of the IT company?
Ask for references from the company's current clients. Speak to those clients, staff as well as doctors, to find out more about the IT company and how they treat their customers.
Project Management Experience
Having a project manager as part of your outsourced information technology staff may not have been your first thought, but it's important to consider. A project manager should be able to ensure that everything you need is coordinated, designed, and implemented to your exact, unique requirements. For instance, if you choose to relocate offices, does the IT provider have the expertise and experience to facilitate this process?
Hosted/Cloud Infrastructure Options
When it comes to where your data and information will be stored, it's important to understand what your best options are and what the company you're evaluating is offering. Look for a provider that offers a robust, scalable, and secure cloud infrastructure model. Also, ensure that the infrastructure is maintained by a team of highly trained and certified professionals with experience in medical/dental operations.
Disaster Recovery Procedures and Policies
Disaster recovery is something we hope never to have to put into action. But as practice owners, it's crucial that we have a plan in place in case it's needed. It's important to understand what the prospective IT company's procedures and policies are with regard to disaster recovery. Ask the provider if they maintain contingency plans or disaster recovery plans with proper risk controls designed to allow continued practice operations. For example, if your practice experiences an extended power outage, would the IT company be able to access and restore your data and help you set up a network in a temporary location? How will the IT provider ensure that your data is secure, protected, and accessible even in the event of a disaster? How fast would you be able to continue seeing patients? A good IT partner should be able to have your practice up and running within a day of the event, depending on the event.
Geographical Location
Where your prospective IT company is located is important because this will affect how you'll work together. If you're located in a different time zone from the IT provider, does the provider have other offices around the country to ensure that someone is available 24/7 if an emergency were to arise? If you have multiple offices, or if you're considering opening more in the future, ensure that you will be able to use that provider to service all regions, thereby streamlining costs and increasing efficiency. If an emergency requires an onsite visit, a local provider will be the better option, especially when addressing hardware failure.
Conclusion
Outsourcing your information technology needs to a technology specialist is an excellent option to improve efficiency, reduce wasted time, and expand your services at a minimal cost. Sometimes outsourcing is about increasing, rather than decreasing, an aspect of your practice. If you want to expand, but do not yet have the funding or training, then external services and professionals such as an IT provider can open up new possibilities.
There is a lot to consider before choosing an information technology outsourcing company to work for. Just because the company is reputable doesn't mean that it's right for your practice. Consider their experience with your industry and with practices similar to yours. Asking the right questions before you've hired them will save you time and money in the long run.