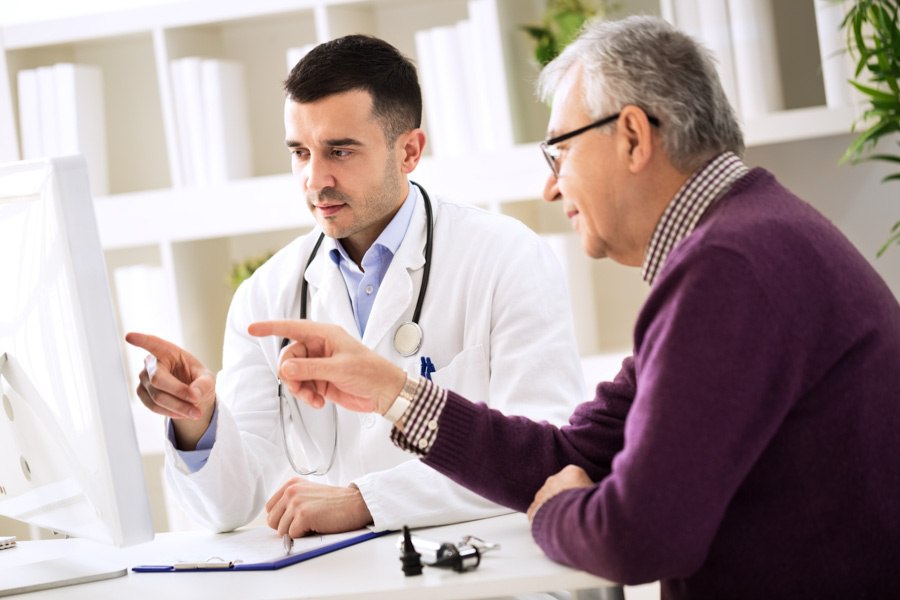 Subscribe
Considerations for Information Technology in the Medical Field
These days every business has to think about how to integrate information technology, or IT, into their operations. But doctors' offices have a few unique considerations they must look at when deciding how to set up their office technology. Medical practices must consider how technology will work in day-to-day running of a business while conforming to incredibly stringent regulations surrounding patient data and privacy.
---
Do you know what to look for in a managed IT service provider?
Download our checklist to learn if you're making the best choice for your practice.
---
Information Technology (IT) and Health Information Technology (HIT)
Information technology encompasses all computer hardware and software that connect to make up a network. This hardware and software stores and controls the most important component of IT: data. Data can include text, voice, image, and audio. Another key component of IT is how it interfaces with the internet.
In healthcare, IT is referred to as health information technology (HIT). With health information technology, your computer hardware and software is used to store, retrieve, share, and use your patients' health care information for consulting with other medical professionals and making the best treatment decisions for your patients. Your particular specialty will determine what configuration of HIT best suits your practice. Not sure where to begin? Consult your IT partner for recommendations and guidance.
HIPAA Compliance
First and foremost, it is incredibly important that all of your practice systems, including your HIT, maintain HIPAA compliance. HIPAA consists of an extensive set of security standards that all medical practices have to follow to protect patient information. The major HIPAA requirements are to:
Ensure the confidentiality, integrity, and availability of all Protected Health Information (PHI) that healthcare providers create, receive, maintain, or transmit, including via email
Identify and protect against reasonably anticipated threats to the security or integrity of patient information

Protect against reasonably anticipated, impermissible uses or disclosures, and ensure compliance by staff through training and consequences
Your health information technology should have all the proper safeguards in place to ensure the security of your patients' data. A HIPAA-compliant network will be password-protected and have antivirus and anti-malware software installed and used consistently. As with printed PHI, staff should be properly trained in HIPAA-compliant practices for handling information technology. Also remember that every staff member does not require an equal level of access to patients' PHI.
Data Security
While HIPAA requires that your patient data remain secure, there are plenty of other reasons to keep all of your data safe besides HIPAA and other data protection audits. Penalties for not following data protection regulations are growing, and secure data protection is a must for any practice owner wanting to maximize revenue and prevent unnecessary losses. Your patient data is your practice. If your patient data were compromised by a security breach, you could lose money as well as patients from your practice, impacting future income.
Data security is crucial to monitoring your organization for employee misconduct. Many people think secure data protection is only meant to protect data against cyber-attacks. It's critical that you closely monitor the electronic activities of your employees, especially on weekends where the risk of an employee tampering with private information increases.
As an employer, you are responsible for maintaining the privacy of your employee data. Within the last few years, many large well-known employers have experienced major security breaches to their employees' data. Breaches have happened to Time Warner, FedEx, and Motorola, to name a few. It is also important to protect your practice's financial information to protect your business.
Finally, maintaining data security will help you maintain your organization's reputation and brand value. Confidential data losses would irreparably damage your practice's reputation. Patient and public perceptions about your practice will sour. Your brand would be tainted and staying ahead of your competitors would be much more challenging.
Patient Access
Are you going to choose to give your patients direct access to their medical records or have any kind of client login or portal? Which data will you allow them to access? What safeguards will you put into place? Will you allow patients to pay their bills online? With HIT you have the potential to allow patient access to certain types of data. It is much easier now than in the past for patients to access their own healthcare information, and they appreciate the convenience that HIT can offer them. Allowing patient electronic access to records offers a great opportunity for you to better serve your patients.
Conclusion
When considering health information technology in your practice, make sure you are looking at all of the variables. Consult your IT partner for recommendations and best practices when choosing HIT components.