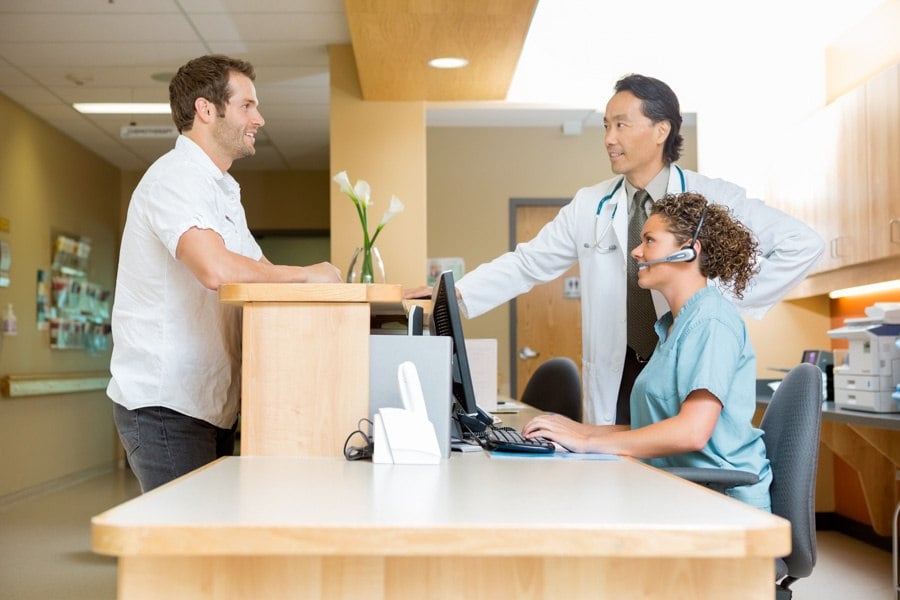 Subscribe
3 Ways to Increase the Level of Productivity in Your Medical Practice Using Technology
As an owner of a medical practice, your ultimate goal is to ensure the safety and health of your patients. You know that to accomplish the best patient care it's essential that your operations and systems are set up in a way to ensure everything is running as easily and efficiently as possible. The technology industry is constantly changing, so it's important that you are aware of what's coming and how your practice can prepare for these changes. Technology can help you effect the best possible outcomes for your patients.
---
Do you know what to look for in a managed IT service provider?
Download our checklist to learn if you're making the best choice for your practice.
---
Automating Medical Device Data Collection
One important way you can use technology to increase your practice's productivity is through medical device integration (MDI). MDI automates device data collection by sending patient data directly to the electronic medical record (EMR), reducing clinician documentation duties. Automating medical device data collection also reduces the chance of human errors created during the documentation process. From a productivity standpoint, MDI is perhaps one of the most beneficial uses of technology in a medical practice. For example, when vitals are recorded and transmitted directly into the electronic health record (EHR), staff members do not have to manually enter this data, thus saving time. According to MindGent Service Center, which specializes in business workflow solutions, MDI can save a 150-bed hospital more than 2,000 nursing hours a year. Another study projects a reduction in charting time up to 50 percent for support staff and 20 percent for physicians.
Electronic medical records are great once the system is implemented and when staff is appropriately trained to work with these records; however, the initial hit a medical practice takes when first implementing can be severe. A recent UC Davis study, which estimates that EMR implementations result in an initial reduction in productivity of 25-33 percent. MDI helps relieve the initial hard hitting impact of implementing EHR.
The Centers for Medicare & Medicaid Services (CMS) implemented incentives in order to minimize the financial impact to medical practices of converting to EHR, as well as to monitor outcomes for patients. In order to retain incentive payments, practices have to prove meaningful use of EHR by collecting certain patient data and providing the information to CMS. For this reason, meaningful use has driven integration between medical devices and EHRs from the start, when capturing height, weight, and BMI was all that was required. When integrated with an EHR, vital signs and other medical device results also provide data that can be used to enhance clinical decision support initiatives.
Revenue is also driving MDI. For example, reduced profits are causing hospitals to ensure they are billing for all the work they do. Medical device integration can document activity that would previously go unreported, allowing hospitals to capture what could be lost revenue. One example is smart pumps – IV infusion pumps with interfacing capability. The initial administration of an intravenous drug is commonly documented in the EHR. However, stop events and titration events go undocumented at many hospitals. Without proper documentation of all start and stop times – including titrations – Medicare and other payers do not reimburse for the maximum amount possible, resulting in lost revenue. Medical device integration can document all this activity automatically, generating revenue for the hospital.
If automating still doesn't feel like the right move for your practice but you know you need to increase productivity, you could also consider using a scribe. Use of a scribe can easily increase a physician's daily productivity by 10% or more, which more than covers any salary costs. Physicians who have moved to this model also report improved overall documentation and fewer denials, an additional boost to your practice's bottom line. Consult your IT professional for recommendations.

Consider Using Emerging Technology
Mobile devices (cell phones and tablets) and various medical applications are beginning to become the norm. As a society, we're using technology more so it only makes sense that personal technology is beginning to merge into the healthcare industry as well. However, it's important that you take a closer look at the technology before immediate implementation. You need to ensure that whatever technology you use for your practice is compliant with HIPAA regulations, keeping sensitive patient data safe and secure.
A secure mobile device can help a clinician review a chart or case while away from the office. This is particularly useful in the case of a patient emergency. Having access to a patient's information can help save time in trying to diagnose the current symptoms. While it is true that the right mobile tool in the right situation can increase quality of care and change outcomes for the better, but should never replace solid clinical judgement. It's important to remember that apps and technology should help productivity but should never hinder patient care or regard.
Be Ready for the Virtual Card Payment Wave
According to Kevin Arner, president and CEO of PaySpan, which specializes in healthcare payments automation, insurers are increasingly deploying "virtual card" payments. Insurers are doing this to improve payment processing efficiency and reduce administrative costs. What this means is that the patient provides your practice authorization codes, which enables practices and hospitals to retrieve payment information from outside merchants. According to Arner, more than 25 payers have adopted virtual card payments, with hundreds more in the planning stages. "Providers need to take steps now to prepare for and take advantage of virtual card benefits," he says. "When properly managed, virtual card reimbursement minimizes fraud and expedites reimbursement, enabling providers to access funds quickly."

If you decide to accept virtual card payments from insurers, you should consider the following:
Ensure that virtual card payment information is delivered over a secure electronic payment network instead of in printed form. Paper creates a significant security risk and is much less efficient.

Choose a merchant terminal solution that is both secure and optimized for healthcare.

Avoid merchant solutions that charge excessive rates, limit redemptions and charge excessive fees that reduce overall reimbursement income.

Seek out proven healthcare payments solutions and services to secure the best rates, rebates and other value-added services.
Consult your IT partner for recommendations and guidance.
Conclusion
Remember that using technology in your medical practice is intended to increase efficiency and enhance patient care. Your focus should be on patient wellness instead of bogged down by cumbersome administrative activities. Use technology solutions and increase your practice's productivity.