Data Security | Dental | Medical
As a medical or dental practitioner, you are quite familiar with the benefits of preventive care. Brush and floss, eat healthy and exercise, schedule routine check ups and tests - these are all ways to prevent larger health issues down the road. The same thing applies to protecting your practice from a potential healthcare data breach. Preventing a data breach by protecting your patients' sensitive information requires an investment up front, but be assured that the cost for not doing so far exceeds the cost of the "preventive care". In this post we will define what a healthcare data breach is, the catastrophic cost associated with recovering from one, how to prevent a breach, and how to get started with your own "preventive care" plan for your practice.
In the dental industry, you always hear about the Health Insurance Portability and Accountability Act (HIPAA). But do you really know what it means and more importantly, is your organization HIPAA compliant? Here, we will go over what HIPAA is, which entities are governed by HIPAA, and how your practice can ultimately become compliant.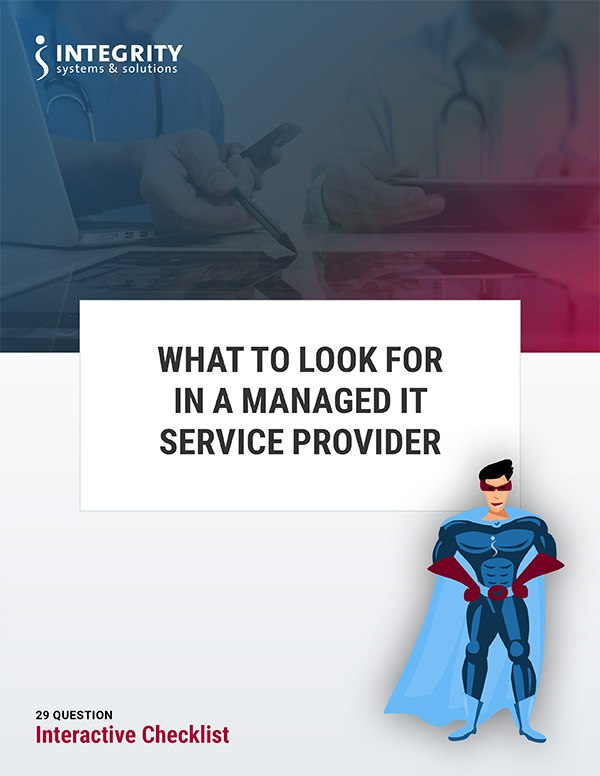 How to Choose a Managed IT Service Provider Checklist
Insight into what questions dental and medical practices should ask managed IT providers as they are searching for one. The checklist also dives into red flags to be on the look-out for.
Data Security | Dental | Medical
What is the most important part of your practice? Is it your building? Is it the equipment? No, your practice is your patients. And since most patient records are stored electronically these days, your practice is your patients' electronic data.
As a dental or medical professional, you want the ability to stay connected to your patients around the clock. Of course you want to remind a patient of an upcoming appointment or send them the latest practice newsletter. But what about really staying in touch and providing them with valuable information about their health? Whether it be sending over test results, asking patients for sensitive information, or sending treatment records, ensuring that your email system is set up to be safe, secure and HIPAA compliant is essential. In this blog we will outline 9 things you need to be doing to ensure your emails are HIPAA compliant.
Nearly every industry relies on the internet to conduct business. For this reason, network security and cybersecurity breaches will continue to be in the news. Healthcare is one of these internet-reliant industries. Because of the confidential and valuable information that healthcare providers collect about their patients, healthcare has become a popular target of cyber attackers. Following HIPAA standards is not enough to keep data safe. Knowing that their practices have valuable data, medical and dental providers must take the proper steps to make sure that their networks and information are secure.
One of the greatest and most costly threats to your dental or medical practice today is a data breach. The healthcare industry loses over $6 billion a year in dealing with the costs of compromised data. In 2017 alone, there were 477 healthcare data breaches, affecting nearly 5.6 million patient records. Your practice is not immune to these threats. Your office collects names, dates of birth, Social Security numbers, addresses, and entire medical histories. Because medical and dental practices collect so much sensitive information, they are particularly attractive to cybercriminals. Hackers will use many different methods to break into your network or website to steal information and sell it on the open market. Stolen data is then used to steal people's identities.